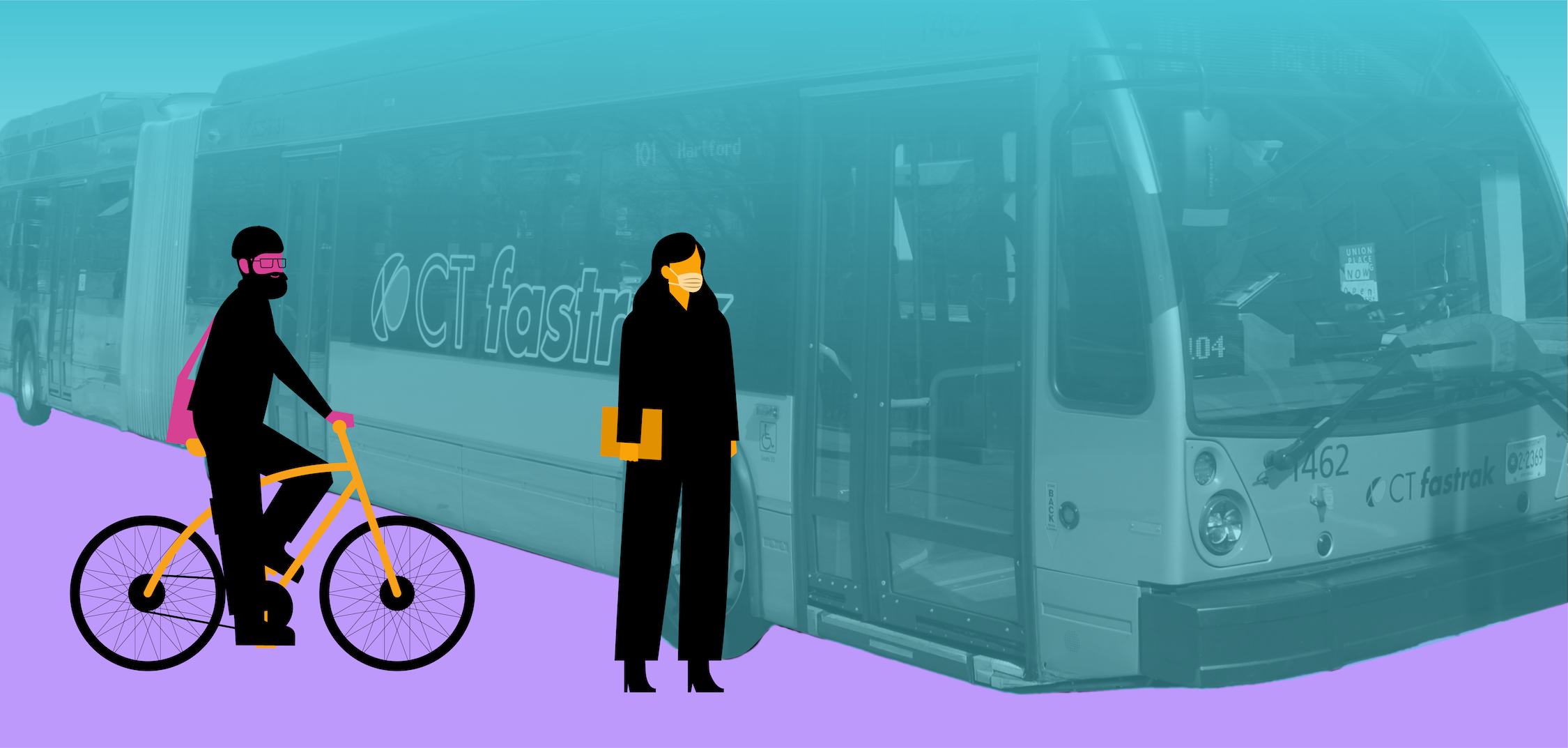 What does Customer Experience (CX) mean?
The Customer Experience is the sum total of a customer's experiences at each step along their journey using public transportation. It includes exploring transit travel options, waiting for the transit vehicle, arriving at the final destination and everything in between.
The Customer Experience for a transit customer could include these steps:
Locating schedules online and trip planning
Purchasing fares
Scheduling a paratransit/dial-a-ride trip
Waiting at a bus stop or train station
Riding on the bus or train
Transferring to another service
Arriving at a final destination
How will the CX Action Plan be developed?
Connecticut DOT is engaging with public transportation service providers, stakeholders, community partners, and transit customers, to collect feedback and input on the state's many public transportation services.
This feedback and input will be the center of the CX Action Plan and will be used to develop priority areas and actions to improve public transportation
Engagement activities include:
Stakeholder interviews
Focus groups
Surveys
Virtual town halls
Community meetings
Collecting comments in-person and through email, online, mail, and phone
Pop-up events--we'll visit your community, stop, station, or ride with you to get your feedback and input
Customer Journey Maps will be informed by engagement with the public, focus groups, and research into who uses the system and how. Check back soon!
Goals of the Action Plan
About public transportation in Connecticut
Connecticut DOT is responsible for the funding and planning of most of the state's public transportation system and service is provided in partnership with bus, rail and paratransit/dial-a-ride service providers. The public transportation system in Connecticut includes:
3 main rail lines including the New Haven Line (Metro-North (with service to the Waterbury, Danbury, and New Canaan lines), the CTrail Hartford Line, and the CTrail Shore Line East
8 CTtransit Branded, Local Service Areas including CTtransit Express Services and CTfastrak
12 transit districts providing local service paratransit/dial-a-ride, and microtransit pilot programs in local service areas. Paratransit is offered in all fixed route service areas
The graphic below provides an overview of bus, rail and paratransit/dial-a-ride services in the state.
For more information on public transportation service and service providers in Connecticut, please click the menus below.
CTrides
Ridesharing
General public transportation marketing and promotion
Customer service for CTrail Shore Line East and Hartford Line
CTtransit
State-Owned Bus Services
Transit Districts
Other Public Bus and Paratransit Services/Dial-a-ride
*Note: These providers only provide only paratransit service.